I've been working on a rebrand project for DSIL Global trying to conjure and call in its brand essence.
Something that rings true to every multitude at the table.
Something that speaks as clearly to the wise old sage as the 5th grade adventurer
Something that represents the world of the rebel revolutionary and the architect
Something that embodies the heart and spirit of the olympian from the ghetto, the riser
What we're talking about here is something that can't be quantified or qualified but only felt.
Business people will call it the UVP.
Spiritual junkies will call it the soul.
And everyone else who can't quite put a finger on it will call it magic.
For me, I can only attest to how DSIL has radically rerouted and reframed my life and it all started four years ago with the girl who cried, "Southeast Asia."
Four years ago, I was highly considering leaving my job to seek adventure. I had seen photos of a friend's travels in Southeast Asia and something about the vibrancy of the aquamarine waters and the pungent hues of street side delicacies drew me in.
I had to go.
I was living in Phoenix, Arizona at the time and Southeast Asia seemed like a far off and not commonly visited destination. Nevertheless, without a plan or a budget, I put my thirty days notice in with the intention of getting out there as soon as possible.
Long story short, I didn't end up making it. I postponed that dream for another. I moved to my dream city, San Francisco, California.
Fast forward three years later, after living happily in San Francisco, I still had the Southeast Asia itch. When I wasn't working I'd spend my free time pursuing personal growth at social innovation institutes, global leadership programs, and changemaker intensives.
Often at these types of things there's an opportunity to introduce yourself and make a pitch or an ask. My ask was always the same, "Hi I'm Kelsey Wong. I'm passionate about people, culture, and community. If you know of any fellowship programs or courses in Southeast Asia, please send them my way."
While many people sent me ideas or places to visit, the only program that was sent to me consistently was the DSIL Course. This globally certified executive leadership course includes a ten-day field immersion in Thailand/Cambodia or Indonesia and a virtual classroom setting for teaching design thinking, conscious leadership, and inclusive development applied to social innovation.
After receiving knock after knock, I finally looked up the site. To my surprise, I recognized the course, when I was living in Phoenix and first considering going to Southeast Asia, a social entrepreneur friend, Courtney Klein had taken the course and had encouraged me to check it out. At the time, I had read "Executive Leader" and been too intimidated to pursue it. But by this time, I had honed more of my leadership skills and creative capacities and could see myself doing something like this. Then, to my even greater surprise, as I was scrolling through photos of the current cohort, I saw a former mentor and dear friend, Tom.
The stars aligned.
Tom put me in touch with the two partners, Courtney and Katy. It took a bit of time coordinating schedules but Katy and I finally had a chance to Skype. After just a twenty-minute call, I was hooked. Katy was so real, down-to-earth and yet for all intensive purposes, such a badass. Her extensive design and teaching background, the complex problems she was working on and the countries she was working in really amazed me and I was eager to learn more.
It felt like synchrodestiny. I expressed my enthusiasm and said as soon as the course application came up I would apply.
When applications opened I didn't think I could be more stoked and then I read the application itself. Never have I ever loved applying for anything so much. The questions felt different. I felt different. Never had I applied for something where I felt I could be my whole self and breathe into my fullest possibilities.
On top of that, I had manifested an opportunity to travel to Thailand and Vietnam six months before the course with two friends. I mentioned to Katy I would be in Thailand and she instantly volunteered her apartment to us. Remember, I had only ever spoken to Katy on Skype for 20 minutes and yet she offered me her house. WHO ARE YOU?! I thought.
In December, I did stay at her house. While I was there, I knew she was my people when I saw on the inside of her door that you see as you walk out, a hand-written note that said, "How are you contributing today?"
Fast forward, not only was I accepted to the course but after spending the month in Southeast Asia I knew I had to be here full-time. So I made it happen. Katy and I had kept in touch along the journey and in May she started a dialogue about capacity gaps DSIL had and asked if I was interested in collaborating more with their consulting team.
I was simultaneously flattered and floored. I signed up for THEIR course, why would they hire me if I'm trying to learn from them?
We talked and she asked if I was interested in working together and even co-facilitating on an upcoming project to test it out we could. To say I was keen is an understatement; I was thrilled.
A week later she sent me an invitation to join her in co-facilitating a leadership development program with the Australia Asia Organization Combating Human Trafficking in Bangkok the following month. I was in Bali at the time and was so ecstatic receiving the invitation I let out a full-bodied YES.
Katy also let me know she'd be in Bali the following week and invited me to meet her local team.
So this is where it gets interesting.
The day before I met Katy in person I had a life-changing tarot card reading.
After a series of wild events, I found myself frazzled as I checked into the White Lotus Meditation Center. After sensing how disoriented I was, Sandee, the owner asked, "What's going on? Are you okay?"
After I flooded her with neurosis she made me some tea and asked if I would you like to do a tarot reading. She thought it would be good for me.
I nodded and so we did.
I've only done a few tarot card readings in my life but the times I have were spot on.
Sandee had me shuffle the deck, lay out the cards and take a deep breath.
The first card she asked, "Which card represents you?"
I closed my eyes and sensed for the light. Wherever a golden light beamed in my minds eye is where I chose.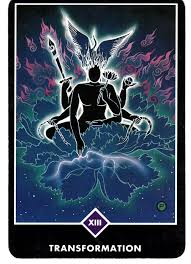 TRANSFORMATION
in the Major Arcana, depicting Shiva sitting in a flaming lotus with a phoenix rising above his head.
Fitting.
The next card she asked, "Which card represents your current work?"
SORROW
I felt into it and pulled a card. I flipped it around only to see the card of Sorrow staring into my face. When I saw that card, I felt like the wind got knocked out of me.
My gut tightened. My face paled. I didn't want to believe it but I knew exactly what it meant. I saw the hunched over monk in the darkness crying and I saw myself working late on my computer in the dark unhappy.
Sandee shook her head, "if you stay working for this company, this will be your life."
I didn't like hearing her say that but I knew deep down as much as I loved my team, that she was right. I had been working remote with a U.S. based company for the last four years and while it was an amazing ride and wonderful place to practice my skills, now that I was living in Southeast Asia, the time difference wasn't healthy and the opportunities to grow were limited.
She asked me, "What other possibilities are opening for you?"
I told her I was meeting someone tomorrow that was a partner at another consulting firm I was very interested in working with.
She said, "What's the name of this person you are meeting?"
"Katy."
"And what's the company?"
"D/O consulting."
"Pull a card that represents Katy and D/O."
Again, I closed my eyes and sensed for light.
INTEGRATION
The light shined on a card right in the middle. I picked it up and turned it around to see the card of Integration, XIV in the Major Arcana.
Looking at the two cards next to each other. Sorrow and Integration was like night and day. The card of Integration represented a world of color where the card of Sorrow was all grey. Furthermore, the card of Transformation, which represented me, was 13 in the Major Arcana and Integration was 14, a natural progression, the next step.
"The next card is the most important," Sandee said, "It represents what you need to do now."
Again, I paused and took a deep breath, looked for the light and then…boom.
POSTPONEMENT
At first, I thought that meant postpone meaning the D/O opportunity is not going to happen. The card showed a woman in grey looking into a frame of color.
But Sandee said, "No, what this means is that if you don't act soon this opportunity for color will be gone and you'll be stuck living in the grey. This is the most important card for you. If I were you, I'd resign today."
My heart stopped.
Was she serious? That's crazy. I can't do that. I've been with this company for four years; I'm not just going to throw it away after some tarot card reading.
Yet even after thinking that, I knew she was right. Agh. She was really right. The writing was on the wall.
I wrote my letter of resignation that afternoon and though it took me two weeks to have the conversation, eventually I did. And to my surprise I received so much love and support.
Today, I write this blog post from my room at Prado Farms. It's a biodynamic farm, eco-resort, and inspirational sanctuary that DSIL is living in and working out of for the next two months. I'm on the new team of four core staff leaning into the business as it undergoes a [r]evolution.
Not only did I complete the DSIL course in Thailand and Cambodia in September, but I'm working with the very team I was so intimidated by years before.
In short, I can't believe I'm here.
And as I dive deep into this [re]brand and organizational transformation I can't help but see what's real and true.
This company, this course, these people have given me the lens of possibility. I've been equipped with new tools for designing, building, and doing. Together, we practice new ways of living, being, listening, and seeing. Creativity is streaming out of me like never before.
So I say again…
Where once there were roadblocks there are rivers.
Where once there were walls there are worlds.
Where once there was grey there is color.
With love x light,
Kelsey Lotus